Freezer Paper - 18" x 1000'
FDA approved bleached freezer wrapping paper.

40 lb. bleached butcher paper with 5 lb. clear poly
1000' per roll
Superior moisture holdout
Footage Guaranteed
White / 18"
White / 24"
White / 30"
White / 36"
Regular price
Sale price
$50.15 USD
Unit price
per
Sale
Sold out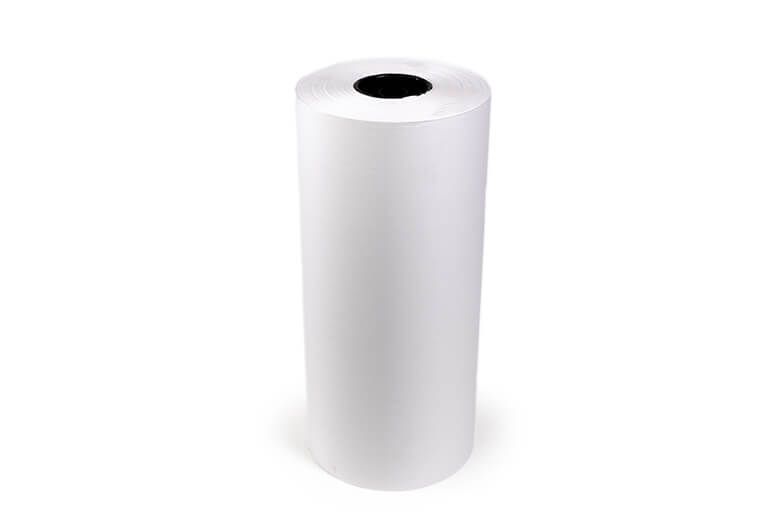 About Our Butcher Paper
What Is It?

Butcher paper is a type of food-grade paper specifically designed for use in the meatpacking industry. It's an uncoated paper made with properties to prevent moisture from soaking through the sheet, making it ideal for wrapping meat and other food items, as well as for lining trays and tables in butcher shops, delis, and restaurants. It is also popular among crafters, artists, and teachers for its versatile uses, such as for drawing, painting, and covering surfaces. The butcher paper at Your Paper Source is sold in rolls and comes in a range of sizes and weights.
What It's Good For

Butcher paper is commonly used in the meat packing industry to wrap and package meat products. It's an uncoated grade of paper manufactured with properties that prevent blood and moisture from soaking through the sheet. Butcher paper is also used by restaurants and food trucks as a disposable table cover, and by barbecue enthusiasts for smoking meat due to its ability to withstand heat and retain moisture. In addition to its use in the food business, butcher paper is also used as a general-purpose wrapping paper in various industries such as for shipping, or as a protective layer during painting or construction work. Its versatility and durability make it a popular choice for many different applications.
Why You Should Use It

Your Paper Source's premium butcher paper is crafted from 40 lb. high-quality kraft paper, perfect for the meatpacking industry's demands and for diverse creative applications. Offered in a variety of sizes and colors, our butcher paper rolls adapt seamlessly to your needs, whether you're wrapping substantial cuts of meat or igniting your artistic flair. Our butcher paper is also FDA-approved for use with raw food, ensuring both safety and quality. The icing on the cake? Your Paper Source offers the lowest prices on the web, allowing you to save on your business operations, presentations, and projects without straining your budget.
How To Use It

Using butcher paper is a simple yet powerful way to enhance your culinary presentations and/or unleash your creative potential. Whether you're a professional in the food industry or an artist looking for a versatile canvas, Your Paper Source's butcher paper delivers exceptional results.

For Culinary Perfection:

Wrapping and Preserving: To wrap meats and other food items, cut a piece of butcher paper to your desired size. Place the food on the paper and wrap it securely. The uncoated paper offers a breathable layer that prevents moisture from escaping while preventing liquids from soaking through. This ensures that your products retain their quality and freshness.
Lining and Presentation: In butcher shops, grocery stores, and delis, butcher paper is perfect for lining trays and tables. This not only maintains a clean and organized workspace but also adds a touch of professionalism to your presentation.

For Creative Uses:

Drawing and Painting: Butcher paper is a versatile canvas for artists of all levels. Cut a sheet to your preferred size and let your imagination run wild. Its uncoated nature offers a unique texture for pencils, pens, markers, and paints, resulting in distinct and engaging artwork. Excellent for classroom settings.
Crafting and Projects: For crafters and DIY enthusiasts, butcher paper opens up a world of possibilities. Its durability and easy-to-cut nature make it perfect for creating banners, decorations, and custom wrapping paper.
Frequently Asked Questions
Does Your Paper Source offer bulk pricing options for butcher paper?

Yes, Your Paper Source sells butcher paper in bulk and offers bulk pricing discounts (actually, we offer bulk pricing discounts for all of our products). Buying butcher paper rolls in bulk will provide numerous benefits for your company. First, you'll save money in the long run as you'll get a lower price per unit. Additionally, buying in bulk means having a larger supply on hand, which can reduce the need for frequent reordering and help ensure that you always have enough paper for your business needs. Finally, buying butcher paper in bulk is a more sustainable option, as it reduces packaging waste and transportation emissions associated with frequent shipments.Contact us today to learn more about bulk pricing options.
Is butcher paper the same as parchment paper?

No, butcher paper is not the same as parchment paper. Although both are commonly used in the kitchen, they have different properties and uses. Butcher paper is a type of kraft paper that is uncoated and untreated, making it safe for contact with food which is why it's commonly used to wrap and store meat, as well as for smoking and barbecuing. Butcher paper is also a popular choice for arts and crafts, as it is sturdy and can be easily colored or painted. Parchment paper, on the other hand, is a non-stick paper that is coated with silicone. It's used primarily in baking to line baking sheets and prevent sticking, as well as for cooking en papillote (in parchment paper) to create a sealed, steamy environment for cooking.

While both papers are versatile, butcher paper is best suited for wrapping and storing food, while parchment paper is ideal for cooking and baking. 
Do you offer custom-sized butcher papernrolls?

Yes, we offer custom-sized butcher paper rolls upon request. Our team can work with you to determine the exact dimensions you require for your specific application. Whether you need a wider roll to cover large tables or a narrower roll for wrapping individual items, we can accommodate your needs.Contact us today to learn more about our custom sizing option.